Bamboo tab socks are running socks, bamboo athletic socks.  They are the ultimate in men or women no show socks.  Great for running, walking, hiking, outdoor activities, and everyday workout socks.
Ecosox Active Sport socks have been developed with two key features in mind, comfort, and durability. Every Ecosox Active Sport sock features an ultra-soft and padded foot, along with an arch support right down the middle to help fight foot fatigue.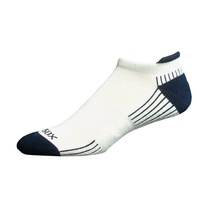 These Active Sport Tabs are low 'footy' style socks but feature a tab in the back to pad your heal from the back of your shoe. It also holds the sock in place to keep it from falling down into your shoes. That's right, these 'footies' are designed specifically to stay up, and are the softest and most durable socks you'll ever wear!
Moisture-wicking to keep feet dry
Arch support to help fight fatigue
Helps control odor
Helps prevent blisters
Thermo-regulating: Cool in the summer, warm in the winter
3 Pairs Per Order!
80% Viscose from Bamboo, 10% Polyester, 5% Nylon, 3% Spandex, 2% Rubber